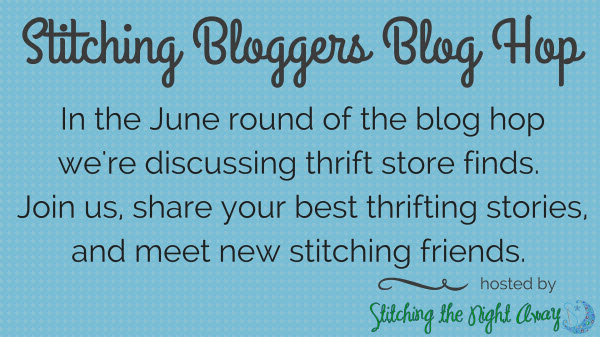 I haven't participated in a blog hop in awhile and figured it was time that I jumped back on the wagon.
This one really made me think. My town has 3 basic thrift stores: Salvation Army, Goodwill, and a locally-owned one called Dream Secondhand Store. Being from a small town and set in our ways, we still usually refer to it as "the old Linnenkohl's" after the original occupant of the building (it was a furniture store and the name was written on the roof).
I don't shop often at thrift stores. Not 'cause I'm a snob but because the first two are mainly clothes and I'm really hard to fit, and the third one is a glorified junk shop. I'm more likely to be found at garage sales around our county during the Spring and Summer.
I did, however, score a really cute Prairie Schooler Santa at the junky shop. I was really surprised! It was stitched and framed and I got him for $1. Isn't he cute?! I see he got a bit smashed. I'll have to make sure to store him better.
The past couple of weeks, I've done really well at garage/yard sales (car boot or jumble sales for the UK readers). I got a ton of cross stitch magazines for a song last Saturday. When I say ton, it was actually 88 magazines. Mostly
Just Cross Stitch
and
Cross Stitch and Country Crafts.
I've also started "rescuing" completed pieces. At the same sale, I got 4 completed and framed pieces! I just can't stand the thought of all that work possible ending up in a trash heap somewhere.
Soon, there is going to be a section in my Etsy Shop,
XedStitches
, specifically for my "rescuees". I'll make a little money on them but my main goal is to see that they go to a home where they'll be appreciated.
Visit all the blogs in this round of the
Stitching the Night Away
Stitching Bloggers June Blog Hop – Thrift Store Treasures and Stories
Find the instructions on how to participate in this round by
clicking here
.
Happy Stitching!
Stacy